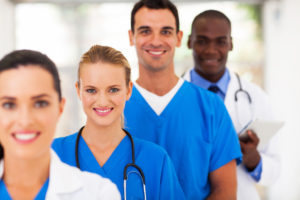 The decision to start your own practice is exciting, and sometimes overwhelming.  There is tremendous time, energy and financial risk associated with establishing a practice. We also know that, as a physician, your first responsibility should be the patients in your care, not getting tangled up in credentialing or creating policies or worrying if the steps you are taking are the right ones.[vc_text_separator title="That's where we come in." title_align="separator_align_left" align="align_right" color="pink" border_width="2″ css_animation="lightSpeedIn"][vc_column_text]
Knowing that you have a trusted and experienced partner to help navigate the details and educate you on key areas of owning a practice can be the difference between success and struggle. We are here to ensure your practice gets off on the right foot from the start, saving you countless hours and dollars in potential mistakes later on down the line.
How We Can Help
Our services provide virtually everything you need to launch your practice effectively and efficiently from day one. Every practice is different and our plan is to provide you with what you need, when you need it.
Business Planning
Assistance with obtaining financing
Create a business plan with budget
System selections
Selection of exam room and office furnishings
Guidance and timelines for ancillary services
Developing a marketing plan
Location and Design Assistance
Identifying practice location
Design layout and office flow
Interior design / finishes
Create an office renovations required timeline
Construction project management
Purchasing
Preferred partner discounts on vendors and supplies
Initial medical inventory order
Initial cosmetic inventory order
Mohs lab set up
Building a Team of Proven Professionals
Legal and financial advisors
Architect/contracting firm
Marketing firm
Credentialing agency
Practice Financials
Determine practice services and associated fees
Develop fee schedules
Create proven revenue cycle plan
Develop patient policies
Develop front office and billing process and procedures/ training documents
Selection of Systems and Services
Telephone system
Patient management system
EMR selection
Human Resources
Education and resources to understand human resource (HR) functions
Creation of over 50 forms to maintain compliance and develop HR program
Office policies and procedures
Job descriptions
Development of new hire documents
Patient financial policies
Staff Recruitment
Recruit for key staff positions
Resume review
Initial screening interviews
Presentation of the best candidates with recommendations
Ongoing Assistance
We recognize your practice needs don't end with the grand opening.  MD Practice Partner is dedicated to working with you and your team to keep things on track and be there to guide you when questions arise. Once you have launched, our job is to help you grow by identifying new opportunities to expand your services when the time is right and be at your side partnering in your success.[/vc_column_text][vc_row_inner][vc_column_inner width="1/2″][vc_column_text]
How does it work?
We start with a complimentary consultation to learn more about your goals and vision for your practice. Your dedicated consultant will gain a better understanding of your needs and begin to create a customized plan for your practice. The next step will be to provide you with a comprehensive plan for success and be with you every step of the way as your practice is established.
[/vc_column_text][/vc_column_inner][vc_column_inner width="1/2″][vc_column_text]
How much does it cost?
Launching a new practice is a time consuming task with many details. Navigating these details successfully can be the difference between profitability and growth or struggling and trying to survive. The needs of each start-up are very different and our pricing model reflects that.  Our passion for helping launch stems from the countless times we have been asked for assistance after the practice has been established for a year and is not thriving.  Unraveling issues later only delays your success   MD Practice Partner works extensively to meet your needs within your specific budget and offers payment plans as you establish your business.[/vc_column_text][/vc_column_inner][/vc_row_inner][vc_cta h2="Are you ready to experience the MD Practice Partner difference? " h4="Contact us today for a free consultation." color="white" add_button="bottom" btn_title="Get in Touch" btn_color="inverse" btn_size="lg" css_animation="fadeInUp" css=".vc_custom_1508084656622{background-color: #3bb3eb !important;}" btn_link="url:http%3A%2F%2F1ec.a33.myftpupload.com%2Fcontact%2F|||"][/vc_cta]